Latest sherwani designs that flatter the groom
The most exciting aspect of an Indian wedding is when the bride and groom arrive dressed to impress. Although it can be difficult to choose wedding attire, however, just as women have a wide variety of choices for their wedding dresses, the Indian Wedding Saree has introduced a stunning selection of wedding sherwanis with breath-taking aesthetic value.
An Indian Sherwani is an outer coat of varying lengths with long sleeves. It has waist suppression. A sherwani comes in different neck styles; it can be collard or bandhgala style. A wedding sherwani is a beautifully embellished attire available in elegant textures and prints also.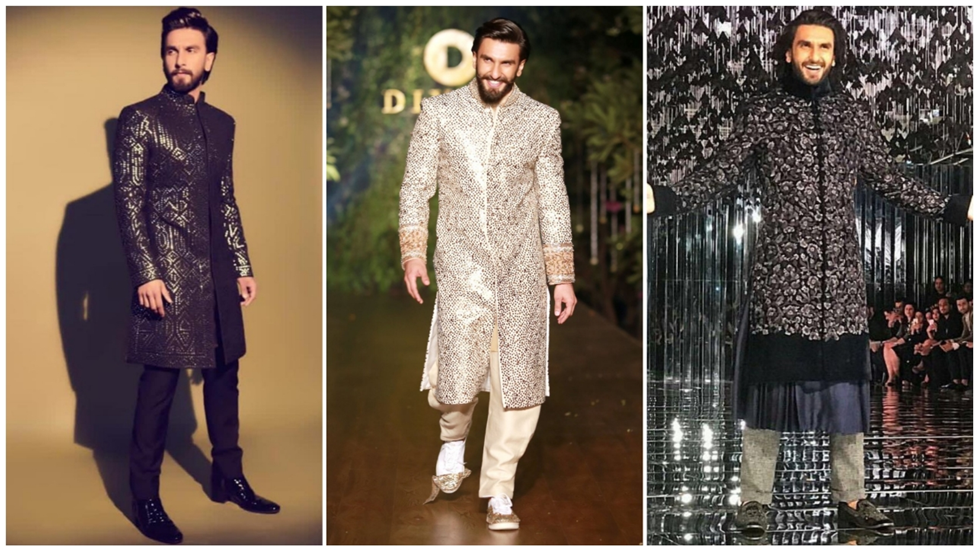 These latest sherwani designs will help you choose the right one for your wedding:
Long kurta sherwani
A basic kurta sherwani is quite sophisticated with a modest design. It comes in solid shades like maroon, grey, black, white, and dark blue, etc. For the wedding purpose, a partially or fully embroidered long kurta sherwani looks perfect. This designer sherwani is available in shimmery cream, golden, royal green, navy, and maroon shades. You can find contrasting embroidery in these elegant sherwanis. Delicate embroidery work in bandhgala style or button line gives it a lovely appeal.
Patterned sherwani with salwar
Sherwanis with patterns have a distinct look. Both dark and light colors are available in lovely geometric or floral patterns. A sherwani's poly cotton fabric has a breathable feel and is lightweight for comfort. The cross-patterned sherwani does not need any embellishment as it has a unique grace of its own. It comes with a matching salwar or dhoti bottom that contrasts. The various jacket-bottom combinations in the patterned sherwani are mustard-chocolate, blue-white, green-cream, cream-black, and golden-white.
Indo western sherwani
Indo-western sherwanis are quite trendy these days. This classy men's designer sherwani comes in different styles. Asymmetrical with a short-length sherwani with unique button details, it looks super elegant. Pair a black sherwani with a white churidar and polished leather shoes. A fine floral motif on the right chest part is a statement wedding outfit.
Another elegant Indo-western style of sherwani is marked by the double-button Jodhpuri coat. It goes well with a dhoti bottom of a contrasting shade. The Jodhpuri coat is also available in floral designs all over the garment with an asymmetrical hem. The shimmery Indo-western sherwani with straight paint looks too glamorous.
Traditional prints on a sherwani
Traditional designs in sherwani have undergone incredible transformations to retain the grace of the attire. The vibrant floral print all over the white sherwani is enhanced by the button line Patti design. men's sherwanis, made of cotton-silk fabric, provide the most suitable surface for royal adornment. These sherwanis are so captivating and unique thanks to the extraordinary traditional designs and prints on glossy fabric.
Sherwani with a dupatta
A golden sherwani with beautiful sequin work adds a festive look to the garment. The classic maroon stall or dupatta offers a perfect contrasting effect to the ensemble. Sherwani and dupattas are also available in a variety of beautiful combinations. A stunning men's wedding outfit is created by the floral sherwani dupatta and off-white designer sherwani that match the bridal gown. Pair it with pearl jewellery for a princely look.
Embroidered sherwani
Embroidered sherwanis are available in limitless designs. These are the most sophisticated wedding attires for men. These bear beautiful adornments with the most influential designs. The most captivating embroidery in men's sherwanis is zardozi Bundi, which is minimalist and offers charm to the fabric. Floral embroidery, silk embroidery, and pearl embroidery are all examples of beautiful embroidery work that enhances the appeal of a sherwani.
The most special event is a wedding. Men love to dress in sherwanis they have never worn before because it is the perfect opportunity to make an impression. The graceful, opulent, and robust appeal of this traditional yet royal attire is appealing to men. Indian Wedding Saree offers an incredible selection of traditional and Indo-western women's and men's wear online in a range of styles, fabrics, and embroidery techniques. The amazing selection of clothes assures your return for various occasions.