Adventure Camp In Kanatal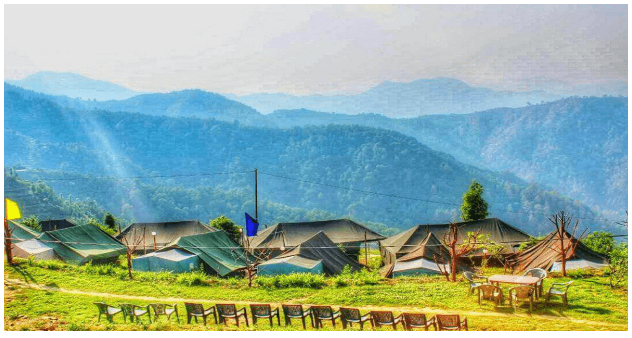 You wander, letting the still paths lead you to the unseen, and then somewhere in the middle you find a place you like and anchor your camp. Inviting and immersive, camps fuel the imaginations of a true wanderer. Near Delhi, Kanatal camps are a great place to spend a weekend.
Kanatal is a nearby village in tehri Uttarakhand which is 320 km from Delhi. It is a place where campers go and spend their days in the deep embrace of nature and experience pristine nature. These camps neither have luxurious interiors nor boast ultra-modern facilities. They are for those who love holidays under the open sky and the shining sun. Here are the 10 best campsites in Kanatal!
The best campsites in Kanatal – tariff range from 3,000 to 5,000:-
Are you looking for a campsite in Kanatal? Below are the most popular campsites in Kanatal along with the range of tariffs and other important details that will make your adventure trip the most amazing!
Wildex Camp Kanatal – tucked away in the embrace of the mountains
At 8,400 feet into the sky, Wildex Camp is the ultimate nature hideaway in the breathing environment of Kanatal. The dream site of the Wildex campsite has a favorable climate and the temperature barely exceeds 25 degrees Celsius. Staying in campsites overlooking the river and waking up to a wonderful view of nature are the luxuries of staying in Wildex campsites.
Try obstacle and adventure activities like valley crossing, abseiling and rock climbing for next-level thrills.
Tariff: INR 4900 per night onwards
Kanatal Camp – Mysterious stay hidden in the clouds
Experience the beauty of nature in all its glory from the thin opening of picturesque tents. Located 78 km from Dehradun, Kanatal Camp is the perfect hideaway in Uttarakhand's Tehri Garhwal district, where unobstructed views are the perfect recipe for feasting.
A total of 11 Super Deluxe tents, 2 Deluxe tents and 2 Standard tents are on offer and are well equipped to ensure a comfortable stay. Good food for both vegetarians and non-vegetarians along with a host of planned activities make the stay an experience of a lifetime. This stay will also connect you with the best places to visit in Garhwal.
Tariff: INR 4100 (3 sharing), 3200 (Couples package), 5400 (4 sharing) for 1 night and 2 days
Whispering Pines to Listen to The Whistle Of The Woods
Camping at Whispering Pines lets you experience the best of alpine sports in Uttarakhand. Campsites around dense cedar, pine, oak, wild iris and other hidden charms of nature will take you to a magical realm where life is too beautiful and enchanting.
The fact that there are adventure activities, jungle trails, spa and campfire for the travelers makes things even more exciting. Staying here means your weekend trip to Kanatal from Delhi could not have been better spent.
Tariff: INR 3500 per night onwards
Pahadi House And Camp – scenic atmosphere
If you are looking for an amazing getaway in Kanatal, then Pahadi House and Camps can surely be an amazing experience for you. The place is known not only for its luxurious atmosphere, but is loved by visitors for its hospitality and unique decoration. The cottages are made of wood, mud and stone and are equipped with modern amenities to make your stay comfortable.
Tariff: INR 3200 for 2 days/1 night.
Kanatal Adventure Camp – Camp at an altitude of 8300 feet
For the discerning adventurer, Kanatal Adventure Camp off Mussoorie – Chamba Road presents an exciting prospect. The thick cover of deodar and oak forest around creates a perfect environment that will captivate you. A total of 44 Swiss Cottage tents and 15 deluxe tents are available, offering both vegetarian and non-vegetarian meals.
Forest trail, bonfire, music, DJ and barbecue added to make your stay more pleasant. Also try the adventure activities, they are absolutely thrilling!
Tariff: INR 2700 (for double sharing)& INR 2100 ( for triple sharing) per night onwards.
The Kanatal Orchids Camp – Feast on stunning views
the most fascinating camps in Kanatal is the Kanatal Orchids camp. A stay there is properly complemented by a wonderful environment and a myriad of activities specially prepared for you. Moonlit trails followed by music, a DJ and a bonfire are the highlights of a significant stay at the campsite, which is known for its elegant Swiss tents.
Located at a distance of 60 km from Rishikesh, Kanatal Orchids is a suitable place to break the monotonous schedule of life.
Tariff: INR 2000 (4 sharing) for 1 night and 2 days onwards for Swiss Camp